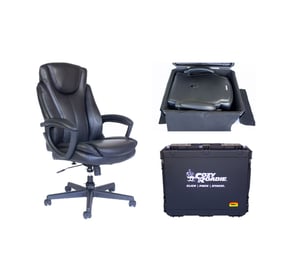 Do you find yourself spending the majority of your time traveling or sitting for long hours at shows or events? Our foldable, portable executive style office chairs offer the perfect addition to your on-the-road office lifestyle. Here are 6 reasons why the Cozy Roadie chair is the best choice for you and your production team:
1. The Cozy Roadie chair provides comfort for you on the job, no matter where your office might be:
When one's job requires sitting for hours, whether it's in an office or backstage at a "5 Star" resort for long days (as in the staging / production industry), proper seating is of key importance!
Ergonomic properties and comfort are a result of many factors, including, but not limited to, the following: back support design, lumbar support position, size and firmness, seat depth, seat angle and height adjustment.

2. The Cozy Roadie chair is manufactured using the highest standards:
To find the best manufacturer for our Cozy Roadie chair, we sought a company with a great USA reputation. Satisfied we had found a company that fit the bill, we have worked closely with them for the past 4 years to perfect our Executive Office Chair. Our chair needed to be beautiful, ergonomic, well built to stand rigorous use and super comfortable.
Originally, it was designed as a "chair-to-go", for road warriors in the staging / production / entertainment Industries who travel every week to a different venue and set up their office back stage, front of house, etc.

3. The Cozy Roadie chair is the perfect addition for professionals in the staging industry, production industry, and entertainment industry:
The Cozy Roadie chair "folds" to go into a transit case and withstands the rigors of on-the-road travel and use (if you happen to be a Road Warrior!).

4. The Cozy Roadie chair is also a great addition for typical office workers, not just road warriors:
The Cozy Roadie Executive Office Chair is the perfect chair because, in addition to being ACA Approved, it is also built for durability and comfort. The back also folds forward and slips under your desk for a neat and tidy office (and it's gorgeous)!

5. The Cozy Roadie chair fabric is rated at a 200,000 cycle "rub count":
Yes, that means it will take 200,000 abrasive contacts to the chair before wearing through the fabric. That's pretty incredible!

6. The Cozy Roadie chair passes all BIFMA standards:
BIFMA is the trade association for business and institutional furniture manufacturers and, since 1973, has set the safety guidelines for the chair industry.

Have you been considering getting a Cozy Roadie for you and your production team or office? Click here, or the button below, to check out our collection of foldable, portable executive style office chairs. You can also contact the Cozy Roadie team to get all of your questions answered.